broadwater halloween party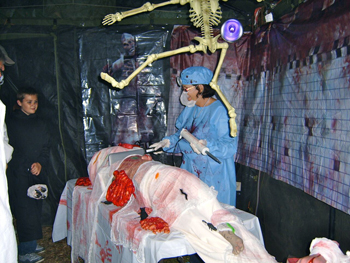 3rd Annual Halloween Party
The old Rahall Estate was an ideal setting for 3rd Annual Broadwater Halloween Party on October 24th.  It was a picture perfect night for a ghoulish party and 160 attendees did not disappoint with some great original costumes and some creative Halloween themed food and drinks.  Forty kids showed off their creative costumes, including 4 pirates, 4 ninja warriors, 3 Disney princesses and queens, and 4 superheroes! All neighbors 14 and under were invited to participate in the Kid's Costume Contest.  All of the contestants gathered up front and the winners were called forward to be recognized and to choose their prizes which included giant cockroaches, fake vampire teeth, flashlights, finger lights, puzzles, art supplies, nerf balls, and dinosaurs. Click herefor list of contest winners.  Great job on the costumes kids and parents!!  Many really great adult costumes made for a very competitive contest that consisted of 3 categories.  Most original costume was won by Erwin Danneels and Selenia Rodriguez as the Hamiltons,   Kirk Price won for funniest costume as the Mystery Monkey and Kim Burnett took the trophy for the scariest costume as the Zombie Cowgirl. The maze was full of special effects, questionable characters and many surprises.  For those who wanted nothing to do with the maze there was a little less scary graveyard and hayride driven by Sean Nyitray.  The food contest brought out our creative Broadwater chefs.  When the votes were tallied up there was a tie for first place as Kira Sokol's Bloody Fingers and Luke Feter's Owl Cake took top honors.  Thank you to all who participated in this fun contest as it really spooked up the food table!  All of this fun was made possible through the planning and hard work of Sean, Jennifer & Nova Nyitray, Charlie & Christy Phillips, Gia & Ray Ockuly, Mark & Patti Ewin, Tim Stevenson, Mike Pezze & Margaret Stone, Dick Collins, Tom Ando, Tim & Kristie Wagner, and our photographers Edie Creter and Chuck Goes.  And of course none of this would have been possible without our gracious hosts who allowed us to take over a large portion of their property for a week and have expressed interest in hosting again next year.  We also want to thank the City of St. Petersburg Neighborhood Partnership for a $500 mini grant to help pay for the event.  The grant is designed to support events that bring residents together and create a more cohesive neighborhood.  Click here to view pictures of this event.
CHILDREN'S COSTUME CONTEST WINNERS
BEST animal costume -- Ansley as the Cheshire Cat.
scariest costume -- Leland & Ryan as Death and his Skeleton Warrior.
BEST fairy costume -- Charlotte.
BEST PRINCESS costume -- Sage as Princess Anna.
BEST QUEEN costume -- Ettie as Queen Elsa.
BEST VAMPIRE costume -- Anthony as Phantom of the Opera.
BEST SUPERHEROES -- Bennet & Jayden as Captain America, Nolan as Spiderman and John as Flash.
most traditional costume -- MacKenna as Little Red Riding Hood.
BEST sports costume -- Jeremy as a Seattle Seahawk.
most sparkly costume – Addie as a Sparkly Cat.
sweetest costume -- Lila as the Pumpkin Ballerina, Alexus as a Bunny, and Ciara as a Kitty Cat.
most colorful costume -- Kaitlin as a Crayon.
BEST movie costume -- Madalyn as Princess Ariel from "the Little Mermaid," and Kellen as a Starlord from "Star Wars."
BEST villain costume -- Dayonalee as the Harlequin.
BEST group costume -- Alex and Gemma as Mummies.
BEST pirate costume -- James, Easton, Jesse, and Kevin with his parrot.
BEST Ninja costume -- Luke, David, Sean, and Nicholas as Dragon Slayer.
BEST DEAD costume -- Jesse.
BEST Nerd costume -- Kirsten.
BEST 60's costume -- Shannon as a Sock Hop Dancer.
BEST Hero costume -- Andrew as the Knight Crusader.
BEST WESTERN costume -- Jonah as an Outlaw.
BEST INSECT costume -- Evanorah as a Bumble Bee.
BEST ANCIENT MYTHICAL FIGURE costume -- Daunavyn as Thor.
Congratulations to all and thank you for participating in our contest!